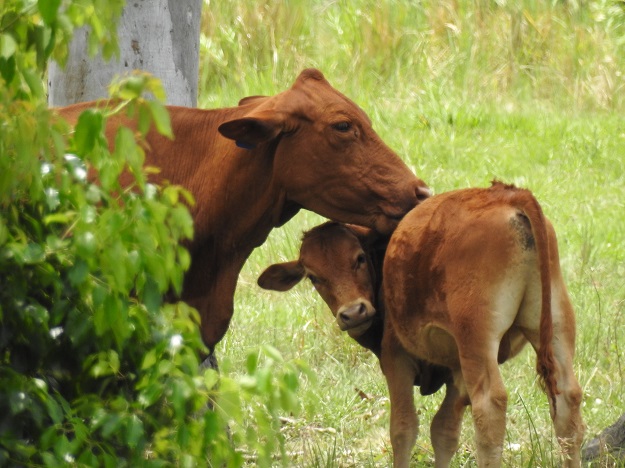 Calving difficulty, technically called dystocia, is a major cause of death loss in cow-calf herds. CHAPA (Cow/calf Health and Productivity Audit) studies indicate that dystocia is responsible for 33 percent of all calf losses and 15.4 percent of beef cattle breeding losses. Dystocia can have a large economic impact on producers due to calf death, veterinary costs, decreased rebreeding efficiency, and injury or death to the cow.
Dystocia is one of the highest veterinary costs to cow/calf operations and the number one cause of calf mortality in the first 96 hours of life. Pregnancy rates for the dam after losing a calf are lower than for dams that have not lost a calf. Studies also indicate that animals experiencing dystocia while delivering a live calf may have decreased rebreeding rates. A sound management program to reduce dystocia and rapidly identify cattle experiencing dystocia is critical to cattle welfare and farm profitability.
There are three stages of labor in normal calving. Dystocia is when it becomes difficult or impossible for the cow to deliver the calf without assistance. It can occur in the first and/or second stage of labor. Producers may not know the exact time the cow goes into labor, but careful observation, and knowing the general guidelines will help identify dystocia early. The most common causes of dystocia are maternal/fetal disproportion, abnormal position of the calf during delivery, incomplete dilation of the cervix, uterine inertia (the uterus will not contract, or becomes "exhausted"), uterine torsion, twins, and abnormal fetuses.
Maternal/fetal disproportion is a condition when the calf is too large for the female to deliver without difficulty. Heifers are at the greatest risk of maternal/fetal disproportion. Current recommendations to maximize profitability and decrease dystocia are to calve heifers at 24 months of age. Calving at that age minimizes the feeding expenses associated with developing heifers while keeping the heifers calving during the same calving season as the mature cows. Well-managed and properly grown heifers will only be 85-90 percent of mature cow size at 24 months of age and not have as much room in their pelvis (birth canal) as do mature cows; however, underdeveloped heifers may only be 60 percent the size of mature cows and are at much greater risk of dystocia. Improper nutrition may not only result in heifers being too small at breeding, but also may compromise the amount of energy available for labor. Undernourished heifers are more likely to become exhausted and have prolonged deliveries. In contrast, heifers that are too fat may have difficulty delivering calves because of the excess fat in the birth canal. Calves that are bred for higher growth potential also have higher birth weights. By breeding for more growth in calves, producers also create more chances for cases of dystocia.
Related Articles & Free Email Newsletter Sign Up
Cattle Show to Align North-South When Grazing
How to Identify and Treat BVDV in Livestock
How to Treat Foot Rot in Beef Cattle