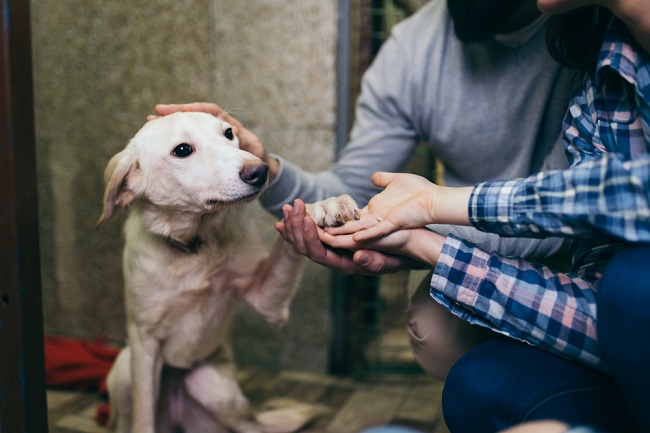 Adopting a shelter dog may involve rescuing stray animals or adopting a dog that has been surrendered voluntarily. A streetwise stray can be a challenge to incorporate into your life, regardless of where he comes from, whether he is the stray born behind a tree or was left behind as an adolescent on the streets.
A puppy requires more than a bed and a food bowl to thrive. Moreover, they require constant monitoring and care. Although setting up a puppy's first night at home may be challenging, this is well worth the effort. This article aims to make integrating a new dog into your home and lifestyle as simple as possible.
How to Adopt a Dog
Let's start with the first step of adopting a dog. Adopting a dog is an easy process. What are the best places to find a dog for adoption? A quick Google search should provide a list of local rescue dog shelters depending on where you live. Search for charities that rehome and rescue dogs of a particular breed if you are seeking a specific dog breed. For example, you can easily do an Internet search on Google Toy Poodles for adoption, which will show nearby dog shelters in your local area.
Visiting The Shelter
After finding the shelter, visit it to meet its owner and enquire about any dogs available for adoption. Here, you can learn about each dog's story, needs, and requirements. The shelter owner can guide you thoroughly.
After selecting the dog, fill in an application form. Shelters need to become acquainted with you to determine if you are a good match for your chosen dog. Depending on how each shelter decides to proceed with your application, the dog adoption process may differ. Shelters sometimes conduct home visits to ensure that your home is a suitable environment for a dog.
What is the average duration of the adoption process? Adapting to a new house may take longer for certain dogs than others. It is typically up to the shelter to determine when they believe the dog is ready for adoption.
Preparing Your Home for Your New Pet
Preparation is key to a successful dog arrival. Provide your new rescue dog with as much structure as possible before they arrive in your home to make their transition from shelter to home as easy as possible.
Decide where the dog can go. Are bedrooms off-limits? If so, shut the doors. Is there an area of the house the dog can't go in? You can then fence off the area with a baby or pet barrier.
Do you intend to place your dog in a designated sleep space (e.g., laundry room, crate, etc.)? Ensure that it is set up from the beginning.
Prepare your dog's 'feeding station' – where will he eat and drink?
A secure fence is essential if you have an outdoor area. Several dogs are natural-born escape artists; others possess the strength and agility to break through unsteady fences.
Determine who is responsible for walking, feeding, and training the dog in your family.
Ensure all essentials are in place, including ID tags, collars, leashes, food, water and bowls, crates (if necessary), and bedding.
Consider using a calming dog collar if your rescue dog has difficulty adjusting to the new environment. Consult your veterinarian for instructions on how to use it.
Getting Ready for the First Day with Your New Pet Dog
Now is the time to take your dog home! When a new family member is welcomed, it is common to feel excitement and nervousness. Take it slow when introducing your dog to an entirely new environment. Ideally, you should bring your dog home when you can stay home for a few days. By doing so, your dog will learn the house rules, while you can supervise them. Consider taking a holiday weekend or several days off from work.
Register your dog with a microchip. Ensure your contact information is entered into the chip's database. You should also bring a phone number-identified ID tag.
A crate is an ideal solution for securing your new dog safely. As he might find the trip stressful, he will be more comfortable in a safe environment. Keeping your pet unrestrained in a car may result in a hefty fine.
Show him around. After arriving home, put a leash on your dog and take him through the house, spending a few minutes in each room. He should be shown where his water and food dishes are located.
Make it a little haven for him. Get him to his toileting area as soon as possible. Allow him a few moments to get accustomed to the area and relieve himself.
Nighttime settling of a rescue dog. Dogs, puppies, and even adults cry when they move away from what they are familiar with. Your pet may benefit from being close to you for the first few nights by having their crate in your bedroom.
Be prepared. In a new home with new people, new smells, and new sounds, your new dog may experience stress. If your dog causes an accident, do not be upset or scold him.
Important Tips for the First Few Days with a New Dog
Limit your dog's access to a specific room or area if you cannot supervise them. By doing so, you will be able to prevent all types of accidents.
Short periods alone will also help prevent separation anxiety in your dog.
Accidents can occur during house training. Although your pet may have been house-trained previously, it may have learned something else while in a shelter. Accidents are inevitable, so be prepared.
Keep your new rescue dog away from your existing pets. If you leave them alone for some time, you must monitor and control their interactions.
The previous experiences of your dog are probably unknown to you. If things do not go according to plan, be patient and forgiving. There is a possibility that your rescue dog may not be socialized and may be fearful of certain situations.
Conclusion
Rescue dogs can make wonderful pets. A dog is often unknown to you at the beginning, and the first few weeks of a new relationship are often described as a honeymoon period during which you get to know each other. Be patient and take it easy on yourself and your new pet. Don't hesitate to contact a professional if any complications arise due to the transition.
Related Articles & Free Email Newsletter Sign Up
4 Good Games & 4 Bad Games to Play With Your Dog
6 Hot Weather Safety Tips for Dogs
How to Teach Your Dog to Take a Bow in 7 Steps