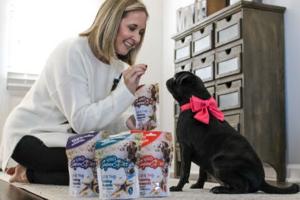 NutriSource has launched the NutriSource SuperStars Giving program, a new philanthropic initiative that expands the company's longstanding commitment to use its resources to positively impact families, children and pets, company officials said. As part of the nitiative, NutriSource is dedicating 100 percent of profits from the company's new line of NutriSource SuperStars Training Reward Treats to organizations across the country that create meaningful changes in their communities.
NutriSource SuperStars Training Rewards Treats are pocket-friendly, nutritious and low-calorie (less than 3 calories each), officials said. Available in chicken, beef, bacon and cheddar flavors, the star-shaped treats feature meat-rich, protein dense recipes that have no corn, wheat, soy, or potato. They are offered in 4-, 6- and 16-ounce bags that include a special SuperStar Spotlight on Rocket, the first NutriSource Facility Dog.
Giving back has always been a priority for NutriSource and parent company KLN Family Brands, with more than $3 million committed and contributed since 2018, according to officials. The company donates to many organizations including Pinky Swear Foundation, M Health Fairview Masonic Children's Hospital, Soldier's 6, and many pet rescues, animal shelters, humane societies and nonprofit veterinary care organizations across the country. The launch of NutriSource SuperStars Training Rewards Treats is part of the company's expanding giving initiative that includes plans to increase support to facility dog programs at children's hospitals across the country and train service dogs that provide a vital role in the lives of those needing a canine companion, officials said.
Related Articles
How to Identify and Treat 6 Common Dog Health Problems
The Value of CBD Products for Pets
Why Dogs Understand Us Better Than We Think