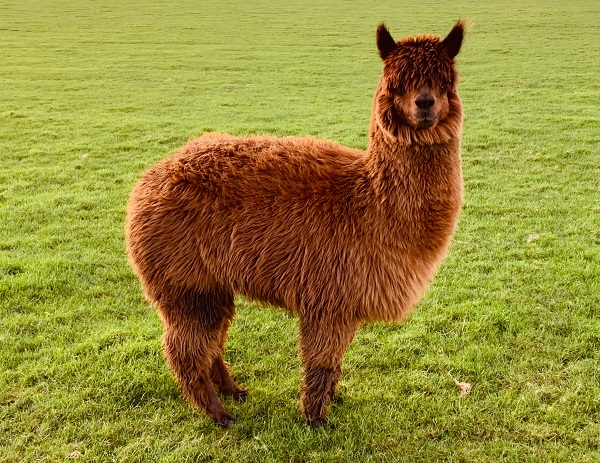 Many prominent people, including William Randolph Hearst, imported llamas to the U.S. in the late 1800s and early 1900s. Since the mid-1970s, the animal has gained popularity. The alpaca was first imported to the United States in 1983.
Ninety-nine percent of all alpacas reside in South America. There are two types of alpacas, the Huacaya and the Suri, with the Huacaya being the most common variety of alpaca. The fiber of Huacaya alpacas grows perpendicular to the body. It forms a lock structure that surrounds the body with fiber, giving the animal a fluffy spongy appearance. Approximately 90 per cent of the world's alpaca are of the Huacaya breed. Suri is a less common variety of alpaca.
The fiber of Suri alpacas grows parallel to the body and hangs down the sides of the body in curly ringlets. Suri fiber doesn't stand out from the body, but parts along the backbone and hangs along the sides giving the animal a slender, sleek look. Approximately 10 per cent of the world's alpaca are of the Suri breed. Since neither alpacas nor llamas produce lanolin in their fiber, the fiber does not need to be processed before it can be spun.
Guard llamas can be an alternative to guard dogs or donkeys for use as predator control with sheep and other livestock such as geese, ducks, deer, and cattle. Most guard llamas are geldings. Llama and alpaca production practices are like those for sheep. Llamas and alpacas are adaptive feeders, eating grasses, forbs, shrubs, and trees.
Llamas and alpacas communicate with each other by ear, body and tail positions, shrill alarm calls, or a humming or low-pitch sound. Spitting among themselves is used to divert annoying suitors, protect themselves from a threat, or to help establish dominance over other animals. Occasionally they may spit at humans by accident, or if they feel threatened by the person.
Alpacas and llamas have a habit of sharing communal dunging areas called dung piles. This trait makes manure cleanup easier and helps reduce the spread of internal parasites. It also means that they can be brought indoors for parties, nursing homes or handicapped people without the risk of accidents.
Most llama sounds are for expressing negative emotion and stress. The most common noise is called "humming" and includes myriad of inflections (including grunts and moos) for many different situations. Llamas do not hum when they are happy or to "talk." Other common vocalizations are the "alarm call" (a unique hiccupping bray), which alerts other llamas to strange creatures in the distance, such as deer, dogs, or coyotes; "squealing," which announces the sighting of another llama; "screaming" (a near-continuous, blood-curdling shriek), which occurs during male battles or when a female is unable to fend off an unwelcome suitor; and "orgling" (a guttural, burbling sound), made by sexually aroused males.
Related Articles & Free Email Newsletter Sign Up
Do You Believe Any of These Animal Superstitions?
Did You Know This About Rabbits?
Why Birds Preen and What They Accomplish Doing It