We all love to give our pet a tasty snack. These recipes will create a tasty treat that will have your pet begging for more.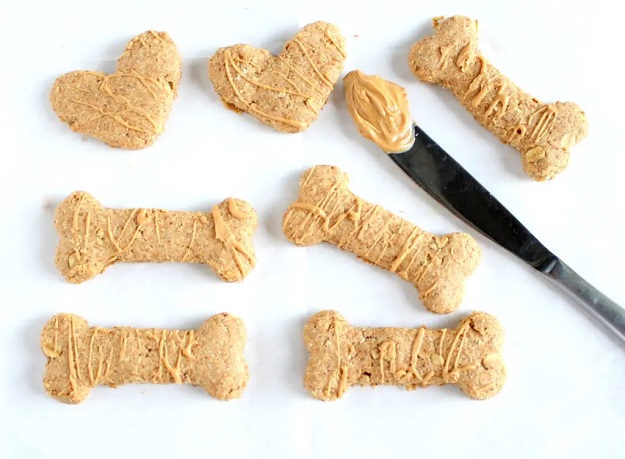 Peanut Butter Dog Bones
1 package dry yeast 1/2 cup lukewarm water
1 cup mashed potatoes
1 cup milk 1/4 cup molasses
1/2 cup chicken stock
1 cup chunky peanut butter
1 cup whole wheat flour
1/2 cup rye flour
1/2 cup rice flour
1 egg
2 cups all-purpose white flour
Preheat oven to 325 ° F (165 ° C). In a large bowl, dissolve the yeast in water. In a large saucepan, mix the potatoes, milk, molasses, stock, and peanut butter. Heat, stirring frequently until boiling. Remove from heat and let cool to room temperature. Add yeast mixture. Gradually blend in the egg, wheat, rye, and rice flours. Add enough white flour to form a stiff dough. Transfer to a floured surface and knead until smooth (about 3-5 minutes). Shape the dough into a ball and roll to 1/2-inch (12 mm) thick. Using cookie cutters, cut out biscuits. Place on ungreased baking sheets, spacing them about 1/4-inch (6 mm) apart. Gather up the scraps, roll out again, and cut additional biscuits. Bake for 45 minutes. Let cool overnight. Makes several dozen bones that freeze well and have the consistency of pizza crusts, a favorite snack for most spoiled dogs.
Horse Burrito
1 soft Burrito
1 carrot sliced lengthwise in four pieces
Carrot green tops
1/2 cup Bran
1/2 cup Molasses
Lay the Burrito out flat. Put carrots side by side right on top. Add a few carrot greens and set aside. In a bowl, mix bran and molasses together. Pour mixtures on top of carrots and roll burrito tightly. Wrap a green carrot top around burrito to tie it closed.
Morsels for Mature Cats
1 can sardines, packed in olive oil
1 cup whole grain breadcrumbs
1 egg, beaten
1/2 teaspoon brewer's yeast (optional)
Pour contents of sardines in a medium bowl. Using a fork, mash into tiny pieces. Add remaining ingredients and mix well. Drop 1/4 teaspoon of mixture onto a greased cookie sheet. Bake in a 325F oven for 7 minutes. Store in an airtight container.
Wild Bird Balls
1 pound of lard
1 jar of peanut butter
5 cups corn meal
6 cups oats
2 cups sunflower seeds
2 cups raisins
Mix everything together and roll into about 5 or 6 small balls. Roll balls in sunflower seeds and raisins. Place the balls in a bird feeder and watch your feathered friends enjoy their snack.
Bird Honey Stick
Find a stick that's between ½ and 2 inches in diameter. Cover the stick in honey with a brush or dinner knife. Pour bird seed on the stick until the stick is fully covered by the bird seed. You can leave it in the refrigerator to harden or just hang it on your bird's cage. Or tempt him with more creative fruit treats, such as kiwifruit and strawberries cut into small chunks.
Hamster Treats
1/4 a teaspoon of peanut butter
1 box plain Cheerios cereal
Variety of vegetables such as carrots, celery, bok choy
Small dog biscuit or stale or fresh bread
Bird seeds and sunflower seeds
Small amount of cheese
Spread peanut butter on dog biscuit, stale, or fresh bread. Stick cereal on top and press in some of your hamster's favorite small foods such as bird seeds or sunflower seeds. Next, press in vegetables around the Cheerios. Press cheese around the vegetables to cover. Have fun hiding the treat where your hamster must climb to get it. Other treats include a small, dried cob of corn or a honey stick or one-half cup of one of those fancy pre-washed salad green mixes.
Rabbit Cookies
1 mashed banana
1/2 of a large carrot, shredded
2-3 tablespoons oats
Bake for about 15-20 minutes at 375 degrees. If you are feeling adventurous, get out the cookie cutters and make some old-fashioned oatmeal cookies for your rabbit using oats and vegetables cut into fun shapes. Commercial pelleted rabbit food can also be grinded and added to your rabbit treats which is a great alternative for flour.
Turtle Treat Foods
Any vegetable rich in Vitamin A which is needed for their eyes; Tomatoes, cantaloupe, watermelon, peaches, kiwi, oranges, blackberries, sweet potatoes, kale, carrots, spinach, avocado, peas squash, asparagus, bananas, romaine or butter lettuce. (Iceberg and cabbage are bad for them) and any other leafy greens.
Goat Treat Foods
Alfalfa pellets, animal crackers, apple slices, bananas – dry chips, pieces of fresh bread, carrot chips, chunks and peels, cookies, crackers, dried apricots, dry or wilting cranberries, fig newtons, frosted animal cookies, grain, grapes, horse treats, marshmallows, molasses cookies, peanuts, pears, pumpkin, pumpkin cookies, pumpkin seeds, rabbit pellets, raisins, ritz crackers, saltines, sunflower seeds, Triscuits and wheat thin crackers just to name a few.
Related Articles & Free Email Newsletter Sign Up
9 Fun Facts About the Eastern Coyote
How Proper Diet Can Prevent a Common Cause of Horse Colic
How to Meet the Nutritional Needs of Senior Horses